Crochet Swimsuits
Crochet Swimsuits
The 1970's are back! Just check out all of the new fun crochet bathing suits that are available. Crochet is a fun, relaxed look but the informal fabric with its loose knitting can also be very sexy and playful. The great thing about crochet swimsuits is that they comes in every trendy style from cut-out one pieces to halter bikinis which makes it a great pool party outfit, especially if you want to stand out while still looking casual and easy going! Plus crochet bathing suits make for perfect festival wear!
Here are a few of our favorite crochet bathing suits available on Amazon.com: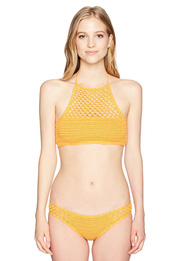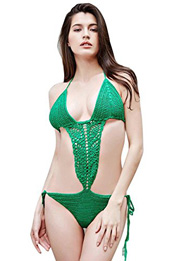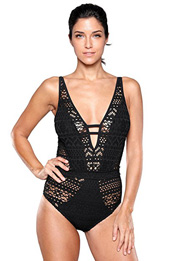 ---
If you feel like you were born on the wrong era but still want to rock a sexy swimsuit for Las Vegas, crochet is your gift from the retro gods. However most of the big, bold, psychedelic color patterns favored by our sexy swingin foremothers have fallen away. Solid colors and contemporary cuts are now the new standard allowing the focus to be on shapes and styles. Crochet swimsuits allow for the perfect match, look retro yet still stay trendy all at the same time!
Plus crochet fabric dominates the halter-top look. Combine it with some denim shorts and you've just made a trip to the grocery store a sexy and trendy afternoon out. It the easiest way to nail the All-American-Girl look!
You may be thinking, "Hey I could just knit my own" or "Maybe I'll find a vintage one off ETSY". Although homemade and vintage crochet bathing suits do up the "authenticity" score, you may regret after the firs time you take a dip in the pool and find you're lacking the support of a modern bathing suit. That's why we recommend the styles above. As always you'll want to read the reviews to ensure the correct fit – often you may need to order a size up or down.