American Flag Swimsuits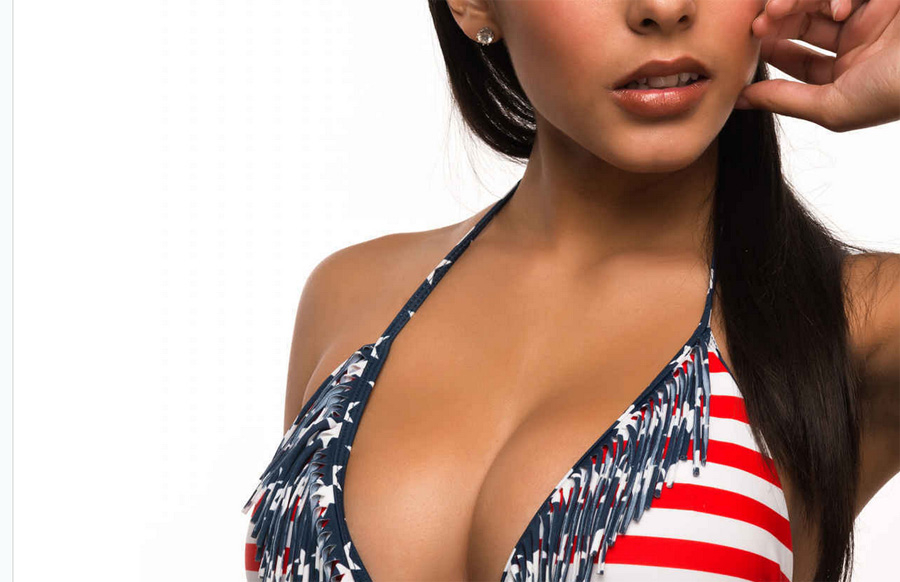 American Flag Swimsuits
Let's be honest. Nothing says "America" like the Stars and Strips over the boobs right ladies? Patriotic pasties aside, Fourth of July Swimsuits are a fun way to celebrate America and summer! There's really two ways to do American flag swimsuits, the first is to get the Squad together and each choose a red, white, or blue swimsuit (good luck with that.) The second option is to rock your own American flag bathing suit. The American flag bikini is the classic (and maybe classy) 4th of July swimsuit. But with the popularity of one piece swimwear this year, you'll have plenty of opportunities to rock the full star spangled banner!
Plus you don't have to save your patriotic swimwear for just one day in July. While both Labor Day and Memorial Day both call for some America F Yeah attire, an American Flag Swimsuit can really be worn all summer long!
Here are a few of our favorite American Flag Swimsuits available on Amazon.com: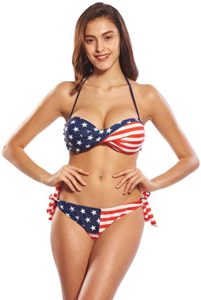 Most of the time you'll be shopping for pattern not for cut or style. The newest flashiest trends of the month usually aren't cut in flag or patriotic patterns. And that's okay – you don't want your bathing suit to do everything. Two-piece bikinis are also all the rage – although we're working on a nice one-piece – let America's stars and stripes be thinning on your bod!
---
Shop the look instantly from Amazon.com:
---
What's great about this American flag style is often the bottoms can be tied on the sides to whatever your comfortable with! Also as with anytime you're buying a suit on the internet you'll want to read the reviews to make sure whether to buy a size up or a size down.
Which every style you choose will be great for this July 4th on the lake, the beach, or the pool. Plus this festive adorable look is great for backyard BBQs. An American flag bikini top with some denim shorts on the bottom are a real crowed pleaser! If you're looking to win the #yetibutts battle this summer, an American flag swimsuit is going to put you over the edge! Make sure to email in your patriotic photos and show us the hot new trends you discovered!